Overview
What are we asking?
The CAA would like to hear your views on a draft of our refreshed Airspace Modernisation Strategy 2022–2040, which will replace the existing Airspace Modernisation Strategy (CAP 1711) that was published in December 2018.
The strategy will now be in three parts, plus an annex. We are seeking your views on drafts of Part 1 CAP 2298a and Part 2 CAP 2298b, and on what changes are needed to the annex explaining the strategy's governance structure, currently CAP 1711b. (Part 3 will be published later on, once we have heard views on these.)
What are we not asking?
Please note that we are not seeking comments on matters of government policy, over which we have no direct control. For example, the CAA must follow government policy and guidance on environmental objectives setting out how aviation-related environmental impacts should be considered.
Nor are we seeking views on the CAP 1616 airspace change process, or on specific airspace changes or change proposals.
We will not take into account elements of responses to this consultation that we consider to be out of scope.
How to respond
The consultation will close at 23.59 on 4 April 2022. We cannot commit to taking into account comments received after this date. You can submit your comments by following the link below and answering the questions, which require a mix of multiple-choice and free-text answers. For convenience you can download the questions in MS Word from the link under 'Related' below, but responses should be submitted through this online portal.
We will assume that all responses can be published on our consultation website. When you complete the information at the beginning of the survey there is an option for you to request that your identity is withheld when your submission is published, or to refuse publication. (In any event, your email address will never be published.) In the interests of transparency, we hope people will not refuse publication.
If you send us any additional material but do not want us to publish some of it, please also send us a redacted version that we can publish. You should be aware that information sent to and therefore held by the CAA is subject to legislation that may require us to disclose it, even if you have asked us not to (such as the Freedom of Information Act and Environmental Information Regulations). Therefore, if you do decide to send information to the CAA but ask that this be withheld from publication via redacted material, please explain why, as this will help us to consider our obligations to disclose or withhold this information should the need arise.
What is the Airspace Modernisation Strategy?
The CAA and the Department for Transport are co-sponsors of airspace modernisation. The Airspace Modernisation Strategy sets out the 'ends', 'ways' and 'means' of modernising the design, technology and operations of airspace. The existing initiatives, which will continue, include the removal of all fixed routes in upper airspace so aircraft can fly fully optimised routes, a fundamental redesign of the terminal route network using more precise and flexible 'performance-based' navigation, and a focus on electronic surveillance solutions to improve safety and enable better integration of all airspace users.
What has changed in the new refreshed version?
We have refreshed the shared vision between the CAA and Department for Transport as co-sponsors for modernising airspace, and grouped the strategic objectives under four headings of safety, integration, simplification and sustainability: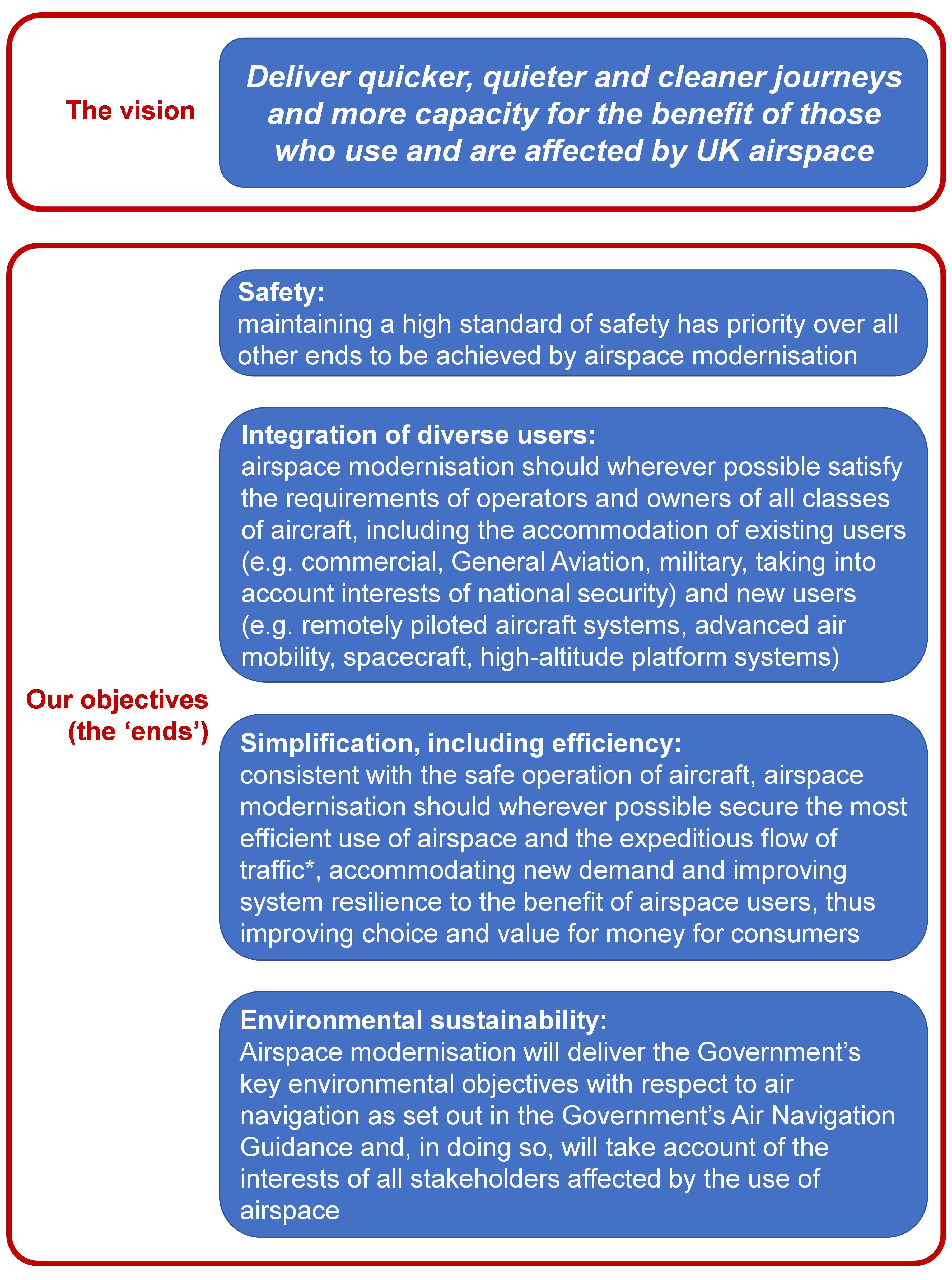 *   for the CAA's understanding of 
                                                                   'the most efficient use of airspace'
                                                                    and 'expeditious flow' please see
                                                                    Appendix G of CAP 1616.
The refreshed Airspace Modernisation Strategy will:
extend the strategy out to 2040

place integration of all airspace users at the core of the strategy, including accommodating new types of user like drones, aerial taxis and spacecraft

aim for simpler airspace design and supporting regulations

introduce sustainability as an overarching principle to be applied through all modernisation activities, including better managing noise and helping achieve government commitments to net zero emissions

align delivery of the strategy with the ICAO Global Air Navigation Plan, meeting the UK's international treaty obligations, and provide a clear strategic path for rulemaking activities now that the UK has left the EU and the European Aviation Safety Agency
all without undermining the initiatives from the 2018 Airspace Modernisation Strategy, delivery of which will continue, and which are subsumed into the refreshed version.
The refreshed Airspace Modernisation Strategy therefore pulls together the ICAO Global Air Navigation Plan, the existing initiatives from 2018 and also new requirements that the CAA has identified through extensive stakeholder engagement during 2021.
Structure of the refreshed Airspace Modernisation Strategy
We have divided the strategy document into three parts, plus a governance annex:
Part 1 Strategy and enablers (currently in draft for consultation as CAP 2298a) explains the strategy's objectives (the 'ends') and a high-level overview of what will enable those objectives to be fulfilled (the enablers or 'ways').
Part 2 Delivery elements (currently in draft for consultation as CAP 2298b) explains the different 'elements' that make up delivery of the strategy (the ways, in more detail). Part 2 links to a more detailed database on our website showing much more information about the deliverables. You can view this database here.
Part 3 Deployment (being developed) will set out progress with deployment of those elements and supporting research projects (the 'means'). The plans in Part 3 are not being published at this stage until we have consulted on drafts of Parts 1 and 2 of the AMS.
Parts 2 and 3 are likely to be updated more frequently than Part 1 as the elements evolve and mature for delivery. The intent is for stakeholders to be able to readily identify the modernisation elements that are relevant to them and which will help to deliver their ambitions.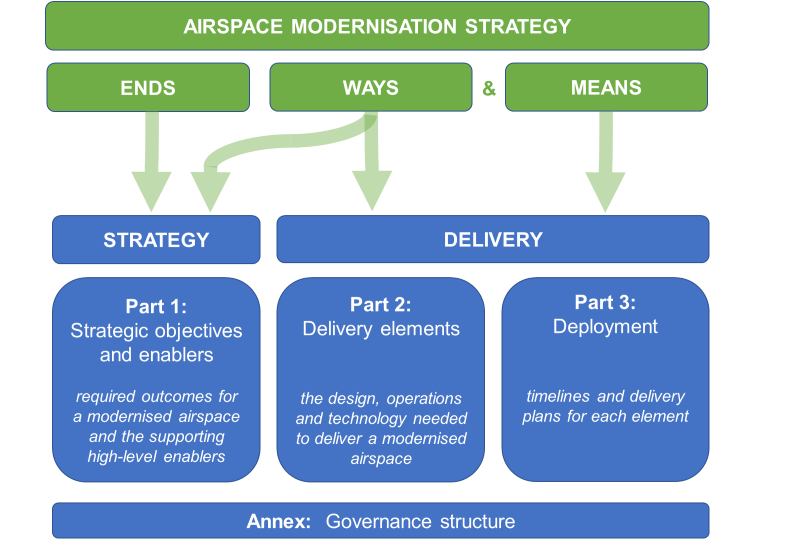 Governance annex 
The 2018 governance structure was developed by the Department for Transport and CAA working with NERL (NATS (En Route) plc) and the Infrastructure and Projects Authority. It formed an annex to the 2018 strategy which is now out of date. It sets out which organisations make decisions and have accountabilities, and the stakeholders they will engage and consult with as they carry out their strategic roles.
Below is the governance structure we last published in CAP 1862 in December 2019, which itself updated the original 2018 CAA/Department for Transport governance annex CAP 1711b. Further changes have occurred in the last two years. We would like to hear your views on how effective the governance structure has been, for example in terms of overseeing delivery of the strategy, stakeholder engagement or transparency.
There is also a more fundamental point on which we would welcome views. The 2018 Airspace Modernisation Strategy, including its delivery and governance structures, was mostly focused on commercial air transport, controlled airspace and larger air navigation service operations. Our refreshed strategy proposes adding new areas of focus, in particular around integration – for example, seamless integration of beyond visual line of sight drone operations, a Lower Airspace Service to better support both self-management of piloted VFR (Visual Flight Rules) aircraft and drone operators in class G airspace, flight progress information sharing to facilitate increased VFR access to class D airspace, an improved class G structure, etc. However, not all of these new areas of focus sit readily with the current strategy's delivery and governance, and by inference funding, structures. 
How can we deliver this broader strategy and what governance structure and groups would be necessary to do so, including future approaches to funding?